Jagger One - the Ultimate Spend Management Solution


MAC SOLUTIONS offers an integrated spend management solution for managing the purchases business process: the vertical JAGGAER system, of which it is distributor for Switzerland.
JAGGAER is the world's largest independent provider of vertical Spend Management solutions, with over 2,000 customers and a network of over 3.7 million suppliers in 70 countries around the world, served by offices in Europe, North America, Latin America, Australia, Asia and the Middle East.
The Jaggaer One suite qualifies as the most complete solution for managing business-to-business expenditure processes available globally.
Jaggaer One is a suite of complete and modular applications for the end-to-end management of the purchasing process.
Jaggaer One offers customers the functional depth to manage, with a vertical approach, 100% of the expenditure in different sectors of the market, including public and regulated markets.

As a pioneer in expense management solutions for over two decades, Jaggaer continues to drive innovation through listening to customers and market analysis.
Jaggaer One is built on a software architecture that supports the use of web services to guarantee interoperability between the different systems; this allows customers to implement, with a plug-and-play approach, a wide variety of best-in-class solutions for managing every spending strategy, in organizations with any level of digital maturity. Jaggaer One offers data management and data identity features, third-party software integration, process workflows and analytics through all procurement activities and solutions.
Jaggaer solutions reduce costs, out-of-control spending and risks, guaranteeing transparency, control and flexibility thanks to a platform that combines innovation and scalability for any business need. This makes the procurement functions a true driving force for the organization, expanding its vision with a view to digital transformation for today and for the future.
The Jaggaer One platform is designed to meet the requirements of the most diverse market sectors including manufacturing, transportation and logistics, chemical-pharmaceutical, CPG, retail, finance, as well as the public and regulated sector.
Jaggaer solutions have as many as 6 ISO certifications, a distinctive fact against any competitor. Another important distinctive fact, Jaggaer holds 38 patents, far more than any other company specialized in Spend Management solutions.
Results obtainable with Jaggaer One:
- 95% Contract compliance
- Intuitive shopping experience and process compliance
- 75% of PO approvals in 1 day
- High number of catalogs enabled; process automation and compliance
- Invoice exception handling reduced from several hours to just minutes
- 70% reduction in non-catalog ordering; 3-way invoice matching
- 8,000 hours saved
- Elimination of paper as support for requisitions, POs, and invoices
- Improved production & distribution efficiency forecasting and VMI (Vendor managed inventory) improved collaboration and planning with component suppliers
- Claims costs ↓ 72%
- Claim compensation ↑ 84%
- On-time-delivery ↑ 96%
Automation of quality management, supplier collaboration, and development of action plans



Examples of managed processes

"Source-to-Contract"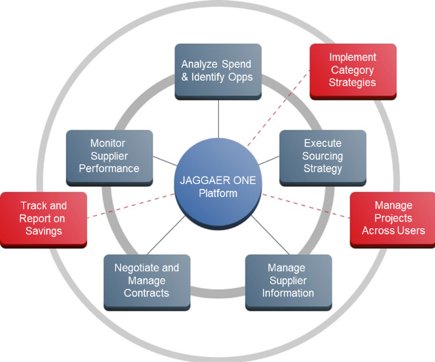 Procure to pay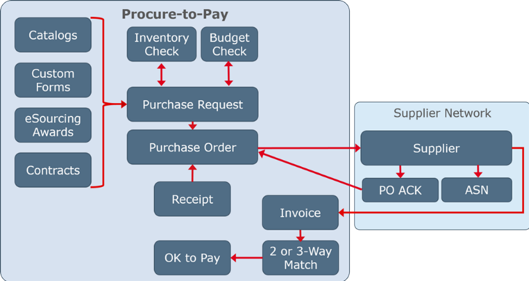 Supply Chain Execution