Security Solutions (Cybertech)
Thanks to its partnership with the Cybertech company (Engineering Group), Mac Solutions, offers a whole portfolio of solutions and services dedicated to the theme of Security.
These solutions are integrated with each other to manage the company in complete security and regulatory compliance. Thanks to a holistic (*) approachto security, addressed in all its components, the customer protects its applications and business data in all their extension. Wherever they are: on-premise, mobile, IoT, cloud.
(*) Holistic: the whole is (much) greater than the sum of its parts.


Value proposition: focus on business applications titghly interwoven with security
Control cybersecurity risks and maintain regulatory compliance through a business-oriented approach to security:

- Governing digital identities and controlling access to critical applications and data with an approach centered on business impacts, while maintaining regulatory compliance
- Blocking malware and responding effectively to security incidents with a Security Operation Center that leverages artificial intelligence and predictive analysis techniques
- Enabling digital growth and transformation through the protection of critical assets, data and applications in the hybrid cloud


The Business Driven and holistic vision is supported by a comprehensive technology & logical frameworkthat addresses category solutionsin an integratedand cross domainpicture, which reflects our broad range specializations.
Reference Architecture for IT security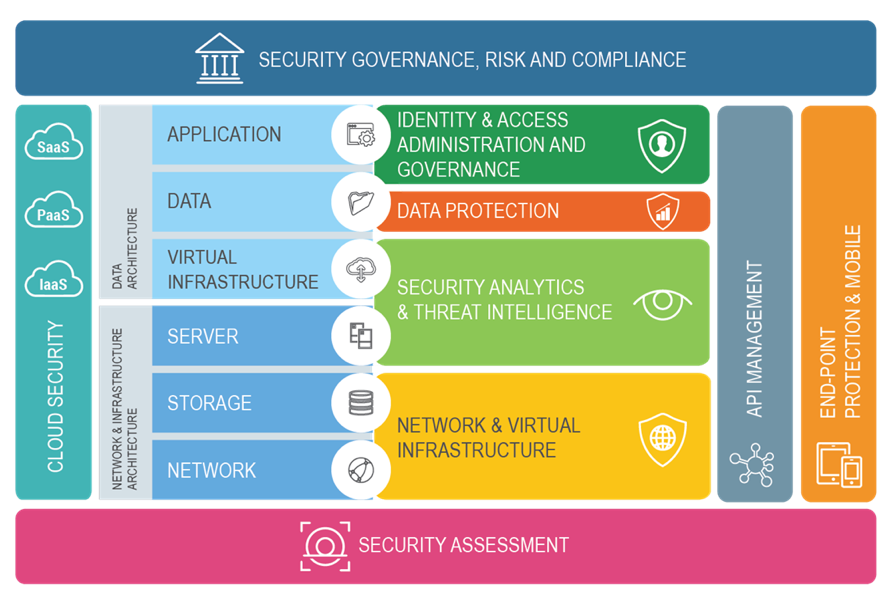 Main areas of our security offering:
- Security Governance, Risk and Compliance
- Security Analytics & Threat Intelligence
- Security Assessment & Application Protection
- Identity & Access Administration and Governance
- Data Protection
- Network and Virtual Infrastructure protection
- End-point Protection & Enterprise Mobility
- API Management
- Cloud Security


For those who want a complete outsourced service,
Security Operation Center (SOC) as a service:
This service includes:

- Managed IAM
- Managed SIEM
- Managed SOC
- SOC Process Design
- Threat Detection & Analysis
- Early Warning Advisory, Security Awareness and Threat Intelligence
- CSIRT for Incident Handling, Analysis & Remediation, and Digital Forensics
- Security Audit & VA/PT/WAPT

A unique and complete service: Outsourced Management
Data Protection Officer (DPO) as a Service
For all those companies that do want to invest in internal skills and / or infrastructure, but want to take advantage of a full and professional service, in perfect Mac Solution style, we offer the Data Protection Officer (DPO) as a service. This is a professional introduced by the General Data Protection Regulation 2016/679 (GDPR). Our DPO is a professional outside the client's organization who has legal, IT, risk management and process analysis skills.
His main responsibility is to monitor, evaluate and organize the management of personal data processing (and therefore their protection) within an organization (public or private), so that they are treated in compliance with European and national privacy regulations.